Today's blog is written by one of our regular patients Richard, here he shares with us some fun times with his first grandchild!
Hi, I'm Richard, a retired teacher with a special school background and I have been a patient with Identity Dental  Care for ages.
Today is going to be a busy one as I am to see Gill and James one after the other this morning, starting at 9.30am.  I set off early, as I hate being late, which gave me the opportunity to pay the papers at the newsagents first. Having sorted the papers I popped into the dentist and was called in to see James straight away, as I was sufficiently early that I could be seen before my hygienist appointment was due. This worked well for me as I went in to see Gill at my appointed time and was all finished by 10.00am, my delight in finishing early was because our grandson was at our house for the day.
I know we go on about grandchildren, us grandparents, but I'm still in shock almost twenty months after his birth.  You know how it goes,  a grandparent is looking all chuffed and telling you that their grandchild is coming round for the day and you think, oh that's nice, in a kind of indifferent way.  You've been told how it feels and you kind of believe it in a sort of half hearted way, and then they arrive!  Well it knocked me off my feet and I'm still recovering.
When I got home he was there and I was greeted with a beaming smile, a squeal and one of those cuddles, where they push their face into your legs and then go back to what they were doing.  I'd suggested that we go swimming and he'd come equipped with towel and trunks and some time later we set off with our daughter driving. We got to the Forum, paid our way in and bought some armbands. We had a lovely time and no tears at all despite the water going over his head and face a few times.  He particularly enjoyed riding on my back as I breast stroked my way around the deep end of the learner's pool, painfully stubbing my toe on a raised grid that someone had thoughtfully put there.
Later, once we had got changed, we went home and I thought, in my innocence, that he might like a nap.  He'd had his mum up for three hours during the night and I fancied that he'd go out like a light when we got back.  Fat chance!  We washed our towels and costumes and with his help we got them on the line and mucked around in the garden for a bit. It was one of those breezy days when the washing dries and we played in the garden blowing bubbles, pushing his truck about, lots of giggles and screams, just good fun.
As I write, my phone has just bleeped to tell me a breaking news story has arrived.  Bradley Lowery has just passed away. What a little character he was, such a shame.
We went inside as a favourite CBeebies TV show is just starting, Waybuloo.  This was just the ticket as he snuggled up to his gran and in no time started fiddling with his hair, great sign! So we popped him into his pushchair and I set out on the walk that would hopefully see him dropping off to sleep.  We have a bit of a route that we walk round and usually, with a bit of judicious wiggling of the pushchair handle, the magic of sleep overcomes him and we get about two hours of R&R, rest and recovery. I walked on, shaking the pushchair gently and noting with delight that his lordships eyelids were looking decidedly heavy,  a short time later he went off.
In one garden that I pass I have noticed one of those blue plants that look a bit like a thistle with a flattened crown of leaves around it.  The man of the house was in the garden and I commented that his garden looked great.He said that it was something he enjoyed but he had trouble with the grass, as he couldn't push the mower. His wife usually does it but unfortunately, she has been unwell and so his son comes round to do it for them.  Just then his smiling wife appeared and noting that the boss had arrived and caught him skiving I took my leave.  Nice chap, never spoken to him before, indeed I don't think I've even seen him before, but the magic of gardens is always a great icebreaker.
We finished our walk and as the weather was nice we left his lordship in the back garden and got on with dinner.  I'd better re-phrase, our daughter got on with dinner and my wife helped.  Shortly afterwards some eggy bread or gypsy toast as I heard it called on an advert once, arrived hot and steaming, I had two slices and enjoyed them.  Once we were finished our daughter suggested that we go and get on with the refurbishment of an easel she had come across.  It had a hollow plastic frame with pieces of hardboard screwed to it.  One was painted with chalkboard paint and the other was covered with painted tinplate, so you can hold paper on with magnets.  At some time it had been left outside and although the plastic bits remained unharmed the hardboard had done what it always does when it gets wet and had swelled, warping as it did so.
I've got to give her, her due, she is my daughter alright and delights in having a go at practical work.  We marked out a new sheet of hardboard and she set to, with a tenon saw, to cut out the required rectangles. She struggled a bit but completed the job in good time and planed and sanded the edges. In the garage, as I write, there are two rectangles of hardboard.  One has the painted tinplate bonded to it with adhesive and the other, the chalkboard is nicely painted.  You are expecting black, and so was I, and so it was a shock when we opened the tin and it was a sort of red oxide colour.  I saw the tin chalkboard paint and so I grabbed it.  Our daughter patiently noted that it says red on the front of the tin and hadn't I noticed. Actually, no I had, but it'll make a nice change from the usual old thing.  We will finish it another day.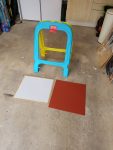 After another good run around in the garden, a few cuddles and an attempt by our grandson to pull the cushions off the settee to make a camp, they went off home.  Wimbledon is on the telly and despite my dislike of the game I've watched a bit, sort of disinterestedly.  Teatime came and went, Lasagne, very nice.
Around 7.00pm I went round to see a chap I worked with for a number of years.  He was my technician for quite a while, and we get on like a house on fire. I drove round and with me being in the car, we had a cup of tea.  There are places where elder statesmen like us meet and put the world to rights over a couple of hours.  If only the politicians would come by and listen, the country would not be in the mess it is in today.  I'm certain that there are elder stateswomen who think we talk a lot of tosh.  Possibly true, but it passes the time and if the company is good, what more do you need.  Actually a pint or two might make it a little better. I took my leave, promising to get in touch in a couple of weeks, to sort the world out again.
I got home and watched a bit of the QVC channel, which was on as I came in.  Now one thing about that channel makes me laugh and it's not the models wandering up and down and twirling around, although that is quite funny. It's those before and after make up shots, someone in one looking like they are suffering from goodness knows what and what looks like someone completely different in the next one, looking like they have just won the lottery.  Soon after that the news was turned on and then Question Time.
I could have enjoyed a good shout at the telly, over question time, but my wife had gone to bed,  such is life, and then it was my time for bed.
I like a read before I fall asleep and have been re-reading some Terry Pratchett books, which I enjoyed the first time around.  I gave it half and hour and that, as they say, was that.
Goodnight.