Why Choose Us
Our team
All our dentists adhere to the rules governing the profession under strict guidance from the General Dental Council (GDC) "Standards for Dental Professionals".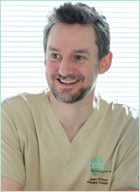 Dr James Robson BDS
Principal Dentist
Qualified in Newcastle 1998
GDC No. 74419
James Robson qualified from Newcastle University in 1998 and spent six years working in NHS general dental practice on Teesside. This was followed by a similar period in private practice in York, before purchasing this practice in 2010.
James also enjoys teaching dentists, hygienists and therapists or writing for the dental or local press. He is most passionate about tooth coloured fillings and gum health and the links to general health and wellbeing.
Apart from dentistry, James enjoys family life, nature watching and photography, especially birds. Maybe you have seen him at RSPB Saltholme?
James is an exceptionally enthusiastic dentist who produces remarkable tooth coloured restorations, and although not one to promote himself he regularly lectures in different countries on this very subject.
Dr Kirsten Bridgman BDS MFGDP (UK)
Associate Dentist
Qualified in Newcastle 1997
GDC No. 73138
Kirsten Bridgman qualified from Newcastle University in 1997 and also practises dentistry in Guisborough. She enjoys all aspects of general dentistry, but has a particular emphasis on preventative measures. Kirsten completed her Diploma in General Dental Practice from the Royal College of Surgeons in 2003.
Kirsten also enjoys the outdoors, whether it be walking, rambling, gardening or spending time with the family.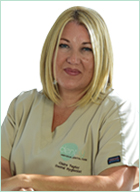 Claire Taylor RDH
Dental Hygienist
Qualified in Newcastle 1998
GDC No. 5440
Claire qualified at Newcastle Dental Hospital in 1998 and spent many years working in the oral surgery and orthodontic departments in local general hospitals in the Teesside area. She also worked in Newcastle Dental Hospital doing research within the restorative department.
She has gained PGCE which enables her to teach which she has done in Durham College assisting with the training of dental nurses and those gaining the diploma in oral health education.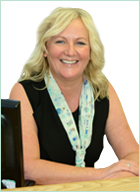 Caroline Kelly
Practice Manager


I started my dental nursing career in 1980, after a few adventures I returned to the profession in 2008 and qualified as a dental nurse at this practice in 2010. I decided to broaden my horizons and became a trainer/assessor at Shape Training which I enjoyed for almost 4 years returning to Identity Dental Care in 2014. I guess I just couldn't stay away, its great being back with the team again!
Bernie Plant
Dental Nurse
GDC No. 162430
I have worked as a Dental Nurse since leaving school in 1976; I came to this practice in 1999 and have seen many changes over the years. James took over the practice in 2010 and has transformed the practice to include many new facilities including a new sterilisation suite, which is my domain.
I am very attentive towards patients, having a very familiar friendly face allows the patients to feel relaxed and enjoy their experience…..and never let it be said they leave without a quick cuppa and a chat!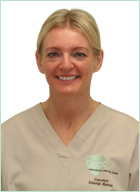 Carolyn Higgins
Dental Nurse
Diploma in Dental Nursing Level 3 QCF City & Guilds 2012
GDC No. 240498
I completed my apprenticeship in 2012 at Shape Training and worked in a very busy NHS practice for over 8 years. Although I enjoyed my job I wanted a change of direction and the experience of working in a fully private practice.
Since joining Identity I have seen the individual attention that is given to each patient and the team have really welcomed and supported me, it's also nice to see a familiar face having been supported by Caroline when she previously worked at Shape Training.
Outside of work I love to spend time with my family and friends and enjoy travelling and visiting other countries.
Lucy Wood
Dental Nurse
Diploma in Dental Nursing Level 3 QCF City & Guilds 2019
GDC No. 286627
I started my apprenticeship with Shape training in 2017 and received my qualification in June 2019. I now work full time at Identity and have great support from the rest of the team.
When I am not working much of my time is taken up looking after my gorgeous dog "Bailey" but he does allow me the time to attend the gym which is my second home, I also love to travel long haul.