Here at  Identity Dental Care we are often  asked "What makes Identity Individual Dental Care in Billingham special"?
For us, it's easy, it's not the state of the art technology we invest in or even the wonderful aroma of ground coffee that wafts through the air to meet you in reception.
It has to be our wonderfully diverse team of dentists, hygienists, manager and nurses that makes up our dental team.
So what's so different about the team at Identity? We pride ourselves on having the personal touch, we know our patients individually and they know us, each one of our team brings their own special qualities to the mix!
Throughout the coming weeks the team would like to introduce themselves to you, starting with our Practice Manager/Receptionist , Caroline Kelly.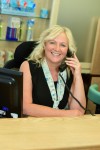 "As some of you may be aware  I originate from the Highlands of Scotland but have lived in Teesside since 1987. Having worked as dental nurse for 9 years I then left the profession to raise a family. I have seen many changes over the years through working both in NHS and private practices. I can still remember my first day as a trainee, I felt extremely overwhelmed and shocked at the dental health of some of the patients I saw! We  held three General Anaesthetic clinics per week and many of the patients were in their 20's having full mouth clearances! The lack of fluoride in the water meant that children were regularly given drops to compensate. Living in the remote Highlands I can see now that we did live in our own little bubble, although ask me if I would return? Yes, most definitely, well at least for my retirement, not to mention the amazing scenery!
I worked at this practice as a Dental Nurse for just over 2 years, however in 2010, just prior to James buying the practice,  I was given a new opportunity to become a Trainer/Assessor with Shape Training in Middlesbrough, a role I thoroughly enjoyed and excelled in. I was then offered a new appointment here in August 2014 which I duly accepted.
My role here at Identity Dental Care has recently evolved into Management, another aspect of the Dental World that I am currently getting to grips with and enjoying. I am quite happy to take a back seat from working in surgery, but I feel that my  past experiences will contribute greatly as I mature in my new position. The staff are a great bunch and we all work well together to make the practice the happy place that it is!
Personally I am quite a creative person, I love to rustle up some culinary delights in my kitchen and enjoy upcycling furniture,  more recently I have taken up running by joining the Billingham Harriers, I will keep you updated on that one!
Thanks for reading!
Caroline.